BIG UPDATE : April 2012 , My own company acquires a competitor of Popup Domination, we are welcome to check it : http://www.wpsubscribers.com , it's a good alternative to consider to build your mailing list with wordpress
What all these names ? it's email marketing tools. to create mailing list and campaigns and send your crap to your visitor. I m not very fond of these tools but I don't want to spam them, I want to notify them, and it is all the difference.
from some friends and contact, I have been recommanded 2 tools to power the mailing list :
http://www.aweber.com or http://www.mailchimp.com
I selected mailchimp, because the monkey was fun :) , it is not only the reason, there is a free plan, and I have heard of a bug with aweber concerning the post and validation message to be in english only, which will not be suitable with my users database. Also because they have a free app for iPhone and the trend of popularity of their service seem to be pretty good
If you check at the popularity of the 2 services with Alexa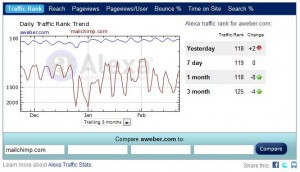 In order to get new subscribers or notify existing customers, I choosed this plugin for wordpress :
Popup Domination plugin which is supposed to work well with wordpress and compatible with either aweber or chimpmail as a backend.
stay tuned, you should see the popup to try it in a few seconds if you didn't see it already


And now, the new reference is really WPSubscribers, because it is more complete and contains more methods, and because I can make sure development includes new requirement and suggestions for bloggers and users